NOTE: This Review is not based on my experience of the product on the FACE. Many of you ask on Instragram (@myskincareregime) about this particular product BECAUSE I mention it, as I include it in my evening routine.
I use this product to treat ingrown hairs and Keratosis pilaris (More info on the NHS website HERE) on my arms. So this review is based on my experience of this product for treating the bumps on my arms.
SIDE NOTE: My friend (who has a deep skin tone) told me recently that she purchased this product and has been using it on her face, she said it has helped with the texture of the skin BUT it didn't help her too much with bumps on her chin or giving her a glow to the skin – so I believe she may need a stronger acid like a Glycolic acid (like the glycolic acid toner from the Ordinary) but she should not use it in the same routine/at the same time as using it with the lactic acid.
Where to purchase: From The Deciem Website HERE
Price: £5.80
Volume: 30ml
What is it?: A Lactic Acid (AHA) Serum that exfoliates the skin – meant to exfoliate dry skin and also skins who don't suit Glycolic acid.
Description: This Alpha Hydroxy Acid (Lactic Acid) exfoliates the skin and contains 10% to provide gentle exfoliation and also contains Tasmanian pepperberry to help reduce inflammation and sensitivity caused by acid exfoliation. There is a milder 5% formulation is available here.
Good for: I think oily and dry skins would benefit from a mild exfoliant, although lactic acid is usually aimed at those with rough/dry skin or dry patches. This could also be good for those who's skins don't suit stronger AHAs like Glycolic acid or BHA.
Directions: "Apply once per day, ideally in the PM. Can be diluted with other treatments to reduce strength until skin develops tolerance. Avoid contact with eyes. Contact of the product with the skin must be of limited frequency or duration. If irritation occurs, cease use and consult a physician. Use only as directed on unbroken skin. Patch testing prior to use is advised…" (From the Deciem Website)
NOTE: "Use a sunscreen, wear protective clothing, and limit sun exposure while using this product and for a week afterwards."
pH: 3.8 (Note – I don't find this stingy even if applied on the back of my hand, let alone my arms).
Support the Blog / Instagram / Youtube on Patreon! Includes Perks and Benefits such as EXCLUSIVE Content! LINK HERE
How I use it: In the PM – I apply this on the back of my arms to treat in-grown hairs (to exfoliate the bumps) and also for mild keratosis pillaris. I apply this every-other night (just to give it a rest in between as I don't want to over exfoliate!). I use about 5 pumps all together for the backs of my arms and over the elbows, down the forearm with any spare residue and even rub my hands with anything left (could help with the knuckles). I let it all dry and then apply a moisturiser (unscented) like the Soon Jung Emulsion (Review HERE). In the daytime I make sure to apply an SPF to the arms or keep them covered/away from the sun.
Key Ingredients: Lactic Acid (10%) This formula contains a derivative of Tasmanian Pepperberry (I believe this is also in the AHA BHA Peeling Solution also from the Ordinary), to help reduce the irritation often felt with acid use. I believe this could help since my arms don't sting when applied and also don't sting if every applied to the back of my hand (AS LONG as I don't have an open sore/cut/wound).
Full Ingredients: Aqua (Water), Lactic Acid, Glycerin, Pentylene Glycol, Propanediol, Sodium Hydroxide, Sodium Hyaluronate Crosspolymer, Tasmannia Lanceolata Fruit/Leaf Extract, Acacia Senegal Gum, Xanthan Gum, Isoceteth-20, Trisodium Ethylenediamine Disuccinate, Ethylhexylglycerin, 1,2-Hexanediol, Caprylyl Glycol.
NOTE: Skincharisma have a full ingredients list breakdown HERE
I like the addition of Hyaluronic acid and Glycerin for hydration/moisture, and of course that pepperberry (if it does aid with reducing irritation).
Texture: This is NOT sticky or gloopy when applying, it can be a bit sticky once this has dried down (i.e. like forming a layer on the skin). But it's not uncomfortable on the arms. It's still quite lightweight.
As you can see it looks like regular liquid.
Easy to spread/swipe across the skin.
As you can see it doesn't dry down immediately but it does start to absorb relatively fast. I'd say the product fully dries down on my arms once rubbed in, after a minute or so.
Fragrance?: "Lactic Acid has a natural odour that some people find unpleasant. This formula was updated in October 2017 to use a grade of lactic acid that has no odour per customer feedback. Additionally, this update removed the use of carrageenan, a seaweed-based viscosity-enhancer, also due to feedback from customers. These changes improve the sensory aspects of the formula but do not impact efficacy…" (From the Ordinary Website) – YES This was initially quite a dark colour (the first LA product I bought was a 5% and yes 1. it smelled and 2. it was a deep pink), so I guess the reformulation has taken out a lot of this colour AND has made the smell a lot more bearable. There is no added fragrance or EO, so I'm happy.
How long have I been using this?: A month (on the 10% as previously I was on 5%).
The Effect?: This has helped with the bumps on my arms – I cannot contest for it as a facial retexturiser myself, however my friend who started using this serum (she has a normal skin-tye and she has deep-coloured skin) has said that it's helped her face with re-texturisation, but didn't really help with the stubborn bumps on her chin.
NOTE: I also gave this to my sister because she was having issues with bumps on the back of her arms too, and she found this effective, that is why I switched from trying out the Ameliorate Body Lotion (discussed below) to the LA serum from The Ordinary.
Giving a donation really helps with the maintenance of the blog! any money made will go towards purchasing products for review!
What I like:
Well priced (it's the Ordinary so of course!)
It does work relatively well (doesn't get rid of stubborn in-grown hairs or bumps)
Doesn't dehydrate the skin
Relatively hydrating
Doesn't sting itch or burn (as long as I don't have an open sore/cut)
It's not so watery/lightweight that I can't use my Niod Pump with this product (so it's easier to apply/use).
Doesn't smell strong or as rancid as the original formula did.
Didn't sensitise my arms
No added fragrance or EO
Not a thick/sticky/gloopy texture and neither has a balling up/pilling effect once it has dried down.
What I don't like:
Because it's mild, one may not get the results (on the body) as quick or as effectively as they would want (but perhaps if I used this every day instead of every other day I may get better results?) Or perhaps I could opt to a stronger acid treatment like a weekly mask from the Ordinary's AHA/BHA peeling solution, or perhaps interchange the lactic acid with the 7% Glycolic acid toner from the ordinary every other day as well. I don't want to overdo it though and cause sensitisation or irritation. As stated before, this serum helped my friend re-texturise her facial skin BUT she said it didn't get rid of the bumps on her chin as effectively as she wanted so is looking for something else to use for that particular area.
I do have to continuously use this (every other day) otherwise I find the effect reverses quite quick (so I have to remember to keep using this).
Because unlike something like the Ameliorate Body Lotion (A lotion that contains Lactic Acid), this is a serum and ISN'T a moisturiser, I have to apply a moisturiser once this has dried down otherwise the effect isn't as good. (so it would have been nice if this serum came in a milky formula that was also moisturising so I didn't need to also apply a moisturiser afterwards – and I find that this works better applying a moisturiser afterwards.
Of course this does sting on any open wounds
Overall Rating and Conclusion: (for working on the bumps on my arms) 3.9/5 – I think this does do a good job (doesn't entirely get rid of the problem i.e. ingrown hairs and KP) but I think I will have to up my usage to every day or intertwine it with the glycolic acid toner or AHA BHA peeling solution to just get rid of those very stubborn bumps. This is gentle though and I really appreciate that as it doesn't make the experience difficult, unpleasant or painful. It's not too expensive so I find that I can slather this on and not be upset I'm wasting product, I like how spreadable it is too. It's just a bit annoying that I do have to be diligent with this otherwise the results can reverse pretty quick. So I would say this is good for mild bumps that aren't very deep or stubborn, I think this gives a nice superficial exfoliation and is gentle enough for those who can't handle Glycolic Acid or high % peels for the arms
Would I repurchase?: Yes – I have already repurchased (the 10% as the 5% I find takes much longer to get results on the backs of my arms). However I do have other LA 10% serums from other brands as I'm sure this one from the Ordinary isn't the only product that can help my bumps, but that any lactic acid (10%) from any company should do the trick. But of course I find it really important not to have an exfoliator that is fragranced or contains essential oils, so that's why I do really like this.
[I WOULD SAY HOWEVER – I do find that although this has had a good effect, the bumps have not disappeared completely, so my next step or phase would be to keep using this product every night, but perhaps once a week, applying the ordinary's AHA BHA peeling solution to the backs of my arms as a stronger exfoliant to really get at those smaller more stubborn bumps. Review of the item is HERE by the way). Either I would use the peeling solution or use the Oridnary's Glycolic Acid Solution as a toner once or twice a week for on the back of the arms, as I do think that also this lactic acid is good, it doesn't completely get rid of the problem.]
DUPE: The Ameliorate Body Lotion HERE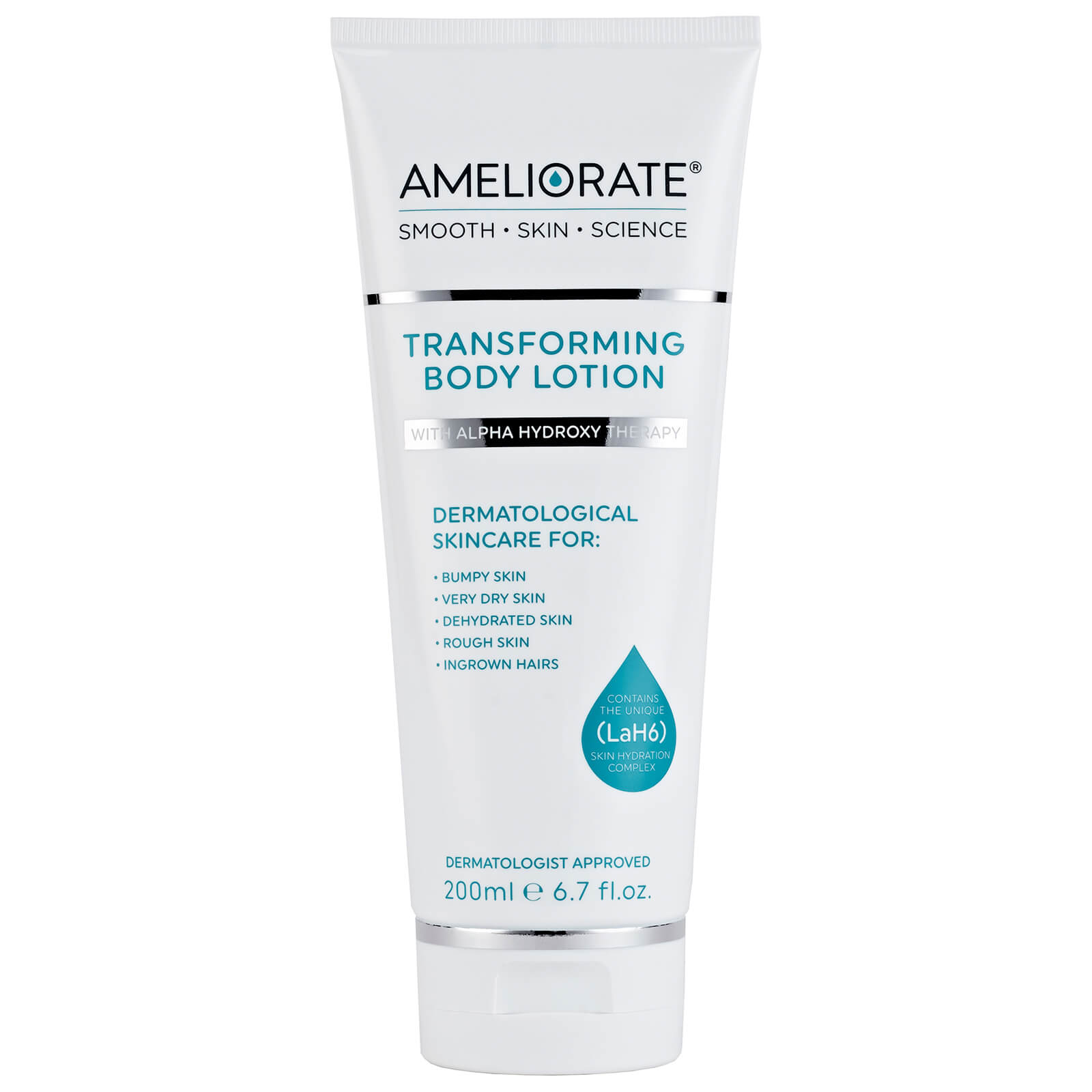 Now this prouct is excellent. I actually used it in conjunction with the ameliorate Body wash – and this really helped the bumps on my arms tremendously. I found that it contained Lactic acid, and that seemed to be the main ingredient which caused the exfoliation and therefore reduced ingrown hair bumps. So I thought, ok if lactic acid is the main ingredint, then why not just buy a cheaper lactic acid product? And this is where the Ordinary's Lactic acid came in. Now I don't know the % of lactic acid in the ameliorate products, but I don't want to knock them and say that they don't work because they did for me and my sister. And what I like is that it's not just a lactic acid product as it also contains emollients so it works to hydrate/moisturise the skin AND exfoliate it, whereas with the ordinary's LA serum, I find that I need to apply it, let it dry, and THEN apply a moisturiser on top (I have been using the Etude House Emulsion for this). So this just reduces the steps needed. But I would say that these products are fragranced, so be careful if you are sensitive.
My Skin Type: I am acne prone and have combo skin. My skin is usually tight where the cheeks and eye area is and the outer parts of my face. My T zone is oily. My skin isn't a fan of thick/heavy formulas so I opt for lightweight formulas to prevent it from clogging up. My skin doesn't like essential oils either and I try to avoid fragrance when I can.
Disclaimer: I am a skincare enthusiast and not a skin expert. I am not qualified to give out dermatological advice. This type of advice should only be given by a medical practitioner. Upon trying / using any of the reviewed products on the blog, please follow the manufacturer's instructions and warnings and please seek medical advice if needed.